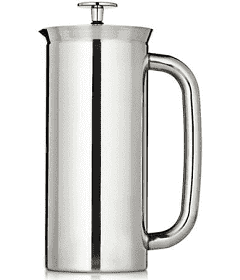 U-Roast-It Coffee
Espro Press-P7 32oz-silver
Ask anyone who likes coffee, and they will know about the humble, but reliable French press (aka coffee press or plunger).
There is good reason for this: a beverage with great body and lots of flavour - and it's easy to use. But it does have its issues. We've never met anyone who thinks a mouthful of coffee sediment is a delicious part of the coffee drinking experience.
In usual fashion, Espro has taken a reliable friend, dusted it down, and given it a new twist which seems so simple, you ask yourself why it hasn't been done before: They have changed the filter.
While this may not seem groundbreaking at first glance, you'll notice they have implemented a unique two stage micro-filter that preserves all of the freshly brewed flavours and aromas, while keeping sediment out of your cup.
This isn't its only trick. Temperature is an important part of brewing so, courtesy of a dual wall, heavy duty stainless steel carafe, it keeps your coffee lovely and hot while brewing.
Like all Espro products, you get durable high quality construction and a good looking piece of equipment. The Espro Press P7 has a polished stainless steel finish.
---
Share this Product
---
More from this collection