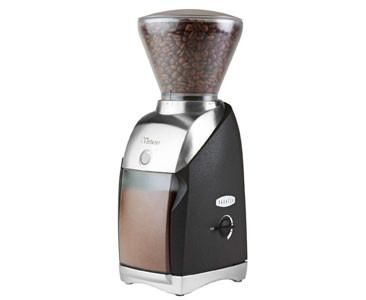 U-Roast-It Coffee
Baratza Virtuoso Grinder
This is the latest 2014/2015 version of the Virtuoso.
The Virtuoso lives up to its name by providing technical skill, classic style and a consistent, quality grind. Grinding for espresso? Let the Virtuoso's professional-grade 40mm conical burrs perform their magic for a consistent, fine grind. How about a French Press? The Virtuoso can handle that too, with a particle size uniformity that gives you consistency from cup to cup. In fact, the Virtuoso is so consistent at both the coarse and fine ends of the grind range that we consider it to be in a class all by itself - and so do many of the micro- and specialty-roasters who swear by it.
The secret to the Virtuoso's consistent, smooth grind is two-fold: an efficient DC motor keeps your beans cool, even during extended grind times, while a combination of electric and gear speed reducers slow the burr to 450 RPM, ensuring a smooth bean feed and reducing noise, heat and static buildup. The Virtuoso's exterior is just as finely tuned as its interior - a convenient front-mounted pulse button allows for grinding directly into an espresso filter basket, while a 60-second timer means that it's easy to replicate the ideal grind time. With the Virtuoso, the look goes beyond merely functional. A sculptured metal top and base give this grinder an expensive, elegant image that adds a sense of class and quality to kitchen counters and coffee shop workspaces alike. When you want it all, the Virtuoso is the grinder that will get you there with function, elegance, and style.
---
Share this Product
---
More from this collection